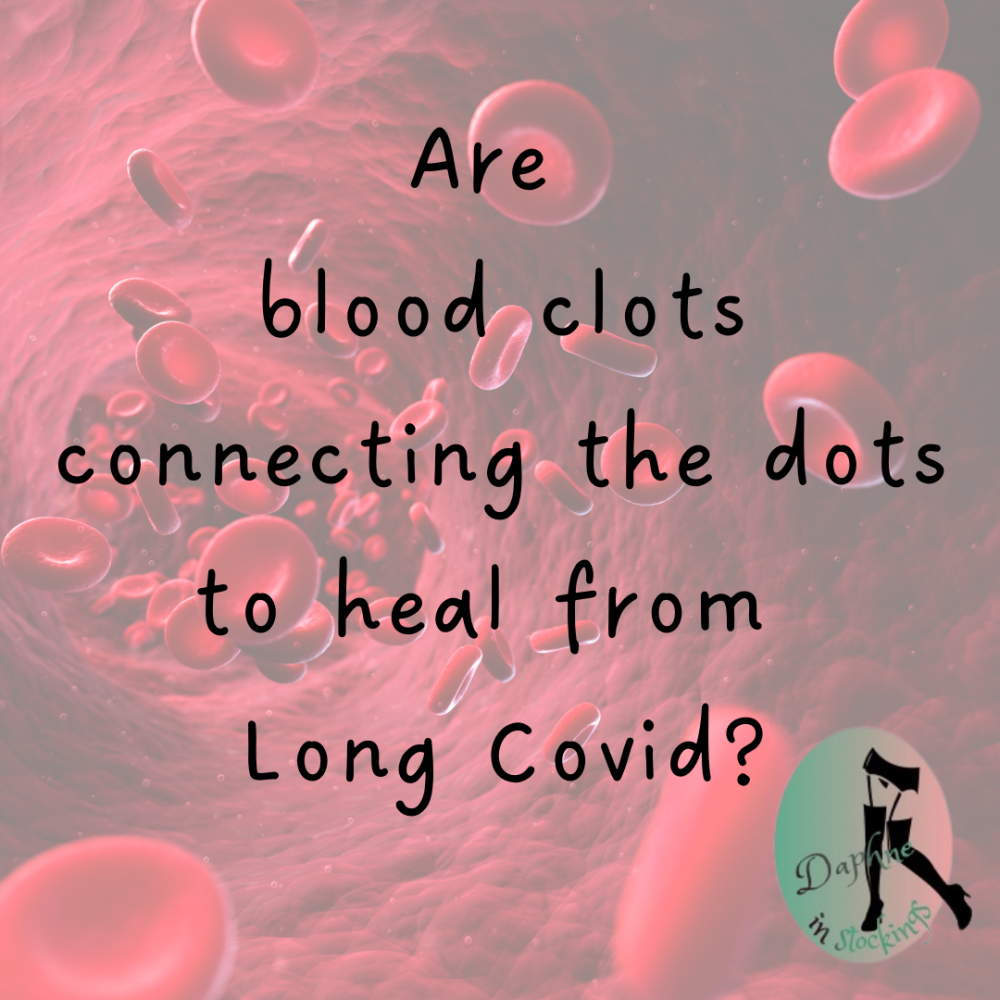 Would my blood be the answer to all the problems I'm experiencing? Are blood clots connecting the dots to heal from Long Covid?
Let's start with a sum up: (I might change it later because summarizing is one of the hardest things to do suffering Long Covid, because memorizing my thoughts and memory, function differently ever since.)
I fell because the feeling in my right leg had disappeared. Now I realize why the two women who found me reacted hysterically and wanted to call an ambulance—the look on the doctor's face in Prague…
 I had thinners from the doctor in Prague because I have FVL. My GP and a doctor in the hospital told me to stop. Soon, I had thrombosis for the third time.
Just after the diagnosis, I had massive and frightening menstrual bleeding using DOAC's. A change of meds (Acenocoumarol) followed this.
Heavier menstrual bleedings and changed periods ever since. Sometimes with a lot, big clots like after giving birth. 
Pain in my chest, headaches for no reason, and palpitations. My GP and Haematologist told me it was stress.
An INR that the Thrombosis service couldn't get stable.
Immense pain in my calf (September 2020), diagnosed as PTS (March 2021)
A strange feeling in my head (November 2020), like a balloon, snapped and fluid came out, followed by an enormous headache and hours of sleep. My GP gave me a prescription to see a Neurologist 2 months later. So I didn't worry.
A few days before Christmas 2020. Backpain, so severe I was in an angel of 90 degrees, not able to move. Heavy painkillers and in bed for two weeks. The third week when I was phasing out on the meds, I was feeling sick. Headaches, fever, feeling like I got the flu. I couldn't test, because I was possitive in November 2020. And it also could have been the meds.
Brainfog got worse, see the symptoms in the list below.
Again more often, pain in my chest, headaches for no reason, and palpitations. (March-May 2021) The rehab doctor refused to take a look at my lungs.
The lung specialist found Asthma (July 2021), and I got a prescription for Foster. The pain in my chest disappeared, so did the stuffiness I experienced during the night. Stuffiness, so heavy that it made me wonder each evening if I would wake up in the morning. It felt like a 15 months before, so I thought it was stress.
A cold (September 2021), coughing up and sneezing blood for 5 days. It stopped, and because of my former experiences, I didn't call a doctor. I wanted to mention this in the visit with the lung specialist (October 2021). Sadly, the conversation mainly went about the rehabilitation doctor I met in April 2021.
Chestpain (lungs/heart) is coming back after a small walk. I have to make stops in my daily walk from 2km.
Is it possible that Covid-19 influences my blood, which causes the same effect as the AIDS virus is affecting my immune system? And does Covid-19 interfere with my blood functions? Are blood clots or a changed blood balance causing the fluctuation of symptoms? Has the virus changed my DNA?
sight
hearing
taste
smell
muscle power and loss of feeling
muscle pain
breathing (lungs)
palpitations (heart)
digestion problems
menstrual problems
headaches (never had them before Covid-19)
strange sensation in my head
increased sleep
brain fog
wordfinding problems, from going blank to try to scrabble the words together. In English and in my mothertongue. Or using the wrong words.
trouble putting things in a timeline
trouble remebering, being disoriented
overwelm, getting lost in the supermarket
visual problems, blurry vision, sometimes after a headache. I need readingglasses and if I don't experience visionproblems I can read without them.
problems with my hearing (tinitus, helicoptersound in my ear, sometimes trouble hearing or sensitive for sounds)
Not able to remember what I've read
Not able to summarize or react to a tekst
bleeding
I add more symptoms, as soon as I remember them.